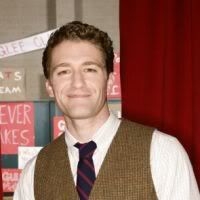 WILL SCHUESTER
Gender:
Male
Age:
36
School/City:
McKinley/Lima
Class:
Faculty
Glee Club:
Yes
Cheer Squad:
No
Jocks:
No
Orientation:
Straight
Portrayer:
Matthew Morrison
Character History:
Will is the coach of New Directions as well as a history teacher at McKinley High. He himself was once a student here and was a member of the glee club who won the national show choir championship in 1993 under the direction of his coach, Lillian Adler. It was through the inspiration of a senior student named April Rhodes that he joined the glee club as a freshman, taking over most of the male leads in his junior year when his teammate and rival Bryan Ryan graduated. He is multi-talented, he can sing, dance, and play several musical instruments (guitar, ukulele and piano).
Born November 19, 1977 to Don and Linda Schuester, he has lived in Lima all his life.  He met his future wife Terri Delmonaco (a former member of the Cheerios) while in high school and they had been married for five years until he found out about that her pregnancy had been a hysterical one and she had been hiding the truth from him.  He left her before sectionals and officially divorced her several months later, having moved forward with his life.  He hopes to take his relationship with his best friend and co-worker, guidance counselor Emma Pillsbury, to the next level.
Since sectionals, the glee club had grown considerably.  New members were added, and together with the core group of twelve, New Directions won the midwest regional championship in Columbus against incredible odds, beating perennial champions Vocal Adrenaline for the first time in three years.  They then went on to place second at the national championship in Chicago, an incredible accomplishment in their first year together since Will revived the club. 
The 2010-2011 competition year proved to be a true roller coaster ride. New Directions had somehow crashed out of sectionals, finishing in fourth place and prematurely ending their competition season. That is, until Will received an official letter from the state show choir committee telling him that a security breach had messed up the sectionals scores and invited New Directions to compete at regionals to make amends for the error. They made the most of their second chance, placing second and going to nationals in New York with the first-place Warblers. It was that second chance that produced a miracle: the group won the championship in only their second year and becoming the first McKinley High glee club in almost 20 years to win the title.
So now in 2014 with all of the original members graduated, can Will and and the next generation of New Directions make the magic happen again?
Character Personality:
When it comes to his job, Will is optimistic. He is passionate about teaching and inspiring others to be the best they can be. Despite obstacles that may get in his way such as interference by Cheerios coach Sue Sylvester, he is very determined and focused to overtake these obstacles. Though sometimes he can make wrong judgments, he takes these lessons in stride and often does what he thinks is good for the team, such as taking a bullet for the kids when something goes wrong. In hindsight, it's these qualities that make him a good leader.
He has the ability to see talent in people that they thought they didn't possess, such as football players who actually can carry a tune.
The glee kids often look to him for guidance, he describes his position as someone who doesn't give the answers but just gives the students the tools to make the right decisions in life. Of all his students, he has a connection with football quarterback Finn Hudson, who often looks to him as a father figure.
Character Appearance:
When you first look at Will, you see a tall, handsome young man. He stands 6 feet tall and is on the thin side, with curly light brown hair and inquisitive green eyes. Talk to him about music and he will give you a smile that can light up a room. His style is classified as "business casual". Around school he usually wears button-up shirts either tucked or untucked with or without a tie, blue jeans and brown casual shoes - on occasion he will also wear a vest, blazer or sweater over the dress shirt. At home he wears more casual clothing and dons more formal attire for special occasions
Sample Roleplay:
Glee had always been a part of Will for as long as he could remember. When he went to Principal Figgins about how he wanted to take over the club and turn it around into the team he was once a part of, even the principal himself had his doubts. So his mission was to take his small group and help make it great again.
He had quite the variety: an ambitious girl who wanted to be a star, a male soprano, a diva wannabe, a shy girl with a stutter and a boy in a wheelchair. But then he found Finn, the popular jock with a gift for music and recruited him into the club by a very unusual method. It was the first time in a long time that the group had actually been good!
Will had come home from a field trip with the club to find out Terri was expecting - she had constantly pressured him to leave his "glory days" behind and find a job that paid better. Just as he was about to resign his teaching post one fateful afternoon, along came the sweet, red-headed guidance counselor, Emma, who made him see that money wasn't the most important thing in life - it was to live the life he was truly passionate about. And Will's true passion, he decided at that moment, was teaching and inspiring people.
As he walked down the lonely hallway, he heard the faint sound of music coming from the auditorium. Drawn to the sound, he entered the room and saw the most amazing sight - the glee club coming together as a single unit, singing an inspiring song together. Applauding at the end of their number, he gave them advice on how to improve, which prompted one of the students to ask if he was staying. It would have killed him for them to win nationals without him - he was here to stay after all.
About You

:
Name:
Stephanie
Location:
Canada
How Long You've Been Roleplaying:
Two years
How You Found Us:
GleeForum
This post has been edited by Will Schuester: 14 April 2014 - 03:22 AM